OM3 MPO/MTP Fiber Cable Ribbon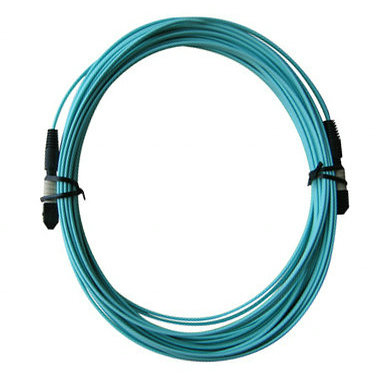 Product Description
OM3 10Gig MPO/MTP Fiber Patch Cord
We offer OM3, OM4 10Gig MPO/MTP fiber optic cables, they are 12/24 fiber cable pre-terminated with MPO/MTP connectors at both ends. These MPO/MTP fiber cables are OFNP Plenum rated, OFNR Riser rated or LSZH jacket. These cables can be 12/24 fiber 4.5mm ribbon, 3mm round or bare ribbon cable.
The 10G OM3 MPO/MTP fiber cable has aqua color jacket for cable recognition.
Features:
MPO/MTP Multi mode 50/125 OM3 fiber cables assembly
Mode: Multi Mode 50/125µm ,OM3 10G
Fiber Count: 12/24 Fiber
Connector: MPO/MTP-MPO/MTP
Cable Type: Round 3.0mm Aqua Jacket
Jacket Material: Riser(OFNR),Plenum(OFNP) or LSZH.
Gender: Male-Male, Female-Female, Male-Female
Length: Customer Length on request
The MTP/MPO cabling system is ideally suited for a high density environment that demands space saving cable density and innovative cable management solutions. Simply install the MTP/MPO fiber cables within the building and connect to the rear of a MTP/ MPO patch panel or ruggedized fan-Out.
Except OM3 10G MPO/MPO fiber cable, we also provide all other fiber mode of MPO/MTP fiber cables.
Available fiber: Corning ClearCurve 9/125 (OS2,Yellow), Corning InfiniCor 62.5/125(OM1,Orange), Corning ClearCurve 50/125 (OM2,Yellow),Corning ClearCurve 50/125(OM3,OM4,Aqua).